If you can believe it, 2022 was Dikeou Collection's first full year open to the public since 2018. Devon Dikeou "Mid-Career Smear" is still rockin' at The Colorado Building and Dikeou Pop-Up: Colfax, and finally had its full 365 days of glory. As we prepare to step into 2023, we want to look back at some of this year's highlights and extend a big humongous thank you to everyone who helped make this one of the most fun and exciting years on record!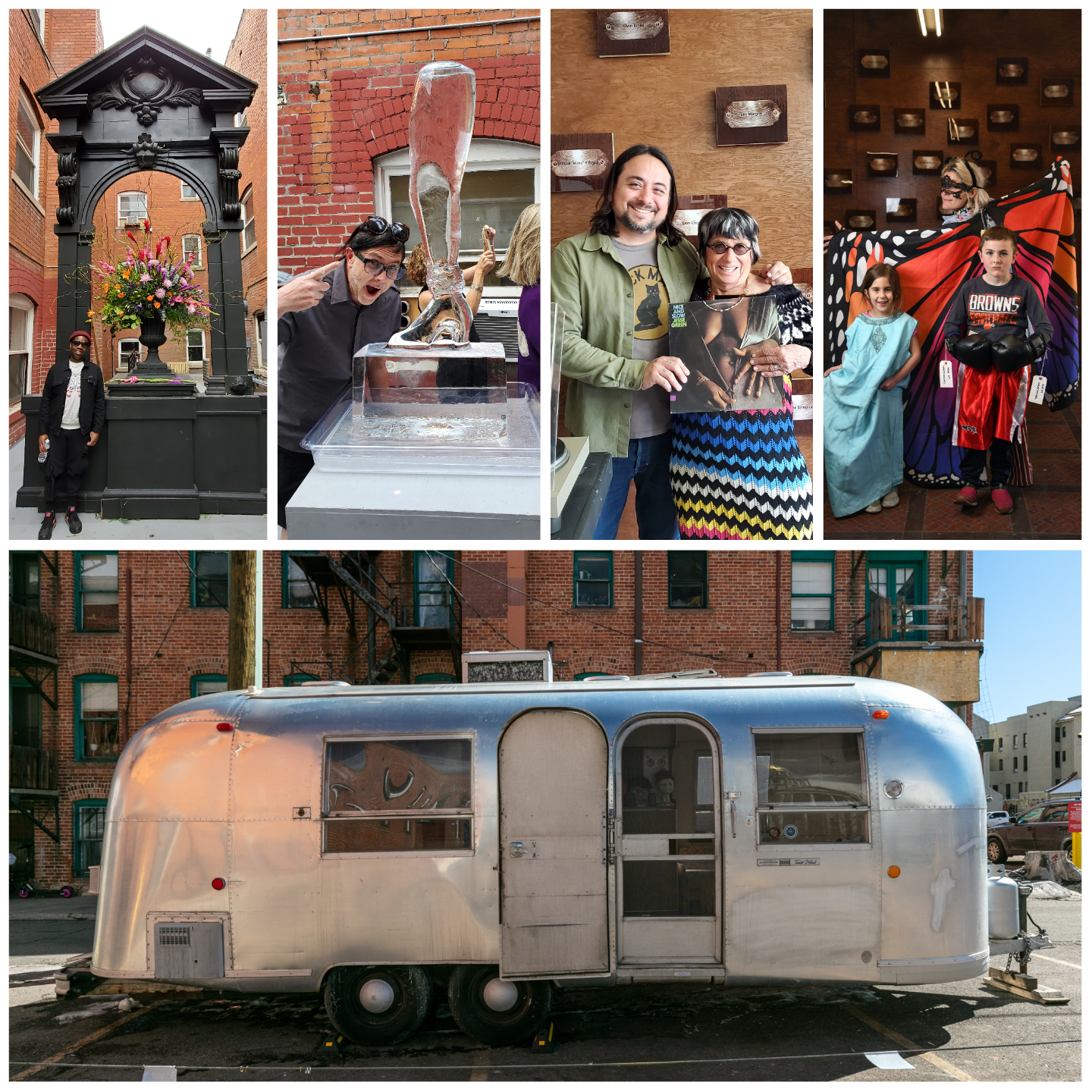 The equinox and solstice receptions at Dikeou Pop-Up became our signature events throughout the year. Each event featured a grand seasonal floral bouquet for Devon Dikeou's ongoing "Donation" installation, as well as exclusive presentations of Dikeou Collection artist Lizzi Bougatsos' "Self-Portrait" ice sculpture. The zingmagazine Airstream held court in the parking lot, and photographer Anthony Camera captured amazing shots of attendees donning zing-themed costumes. Artists and friends invited to DJ these 2022 gatherings curated sets of groovy jams from our massive vinyl archive.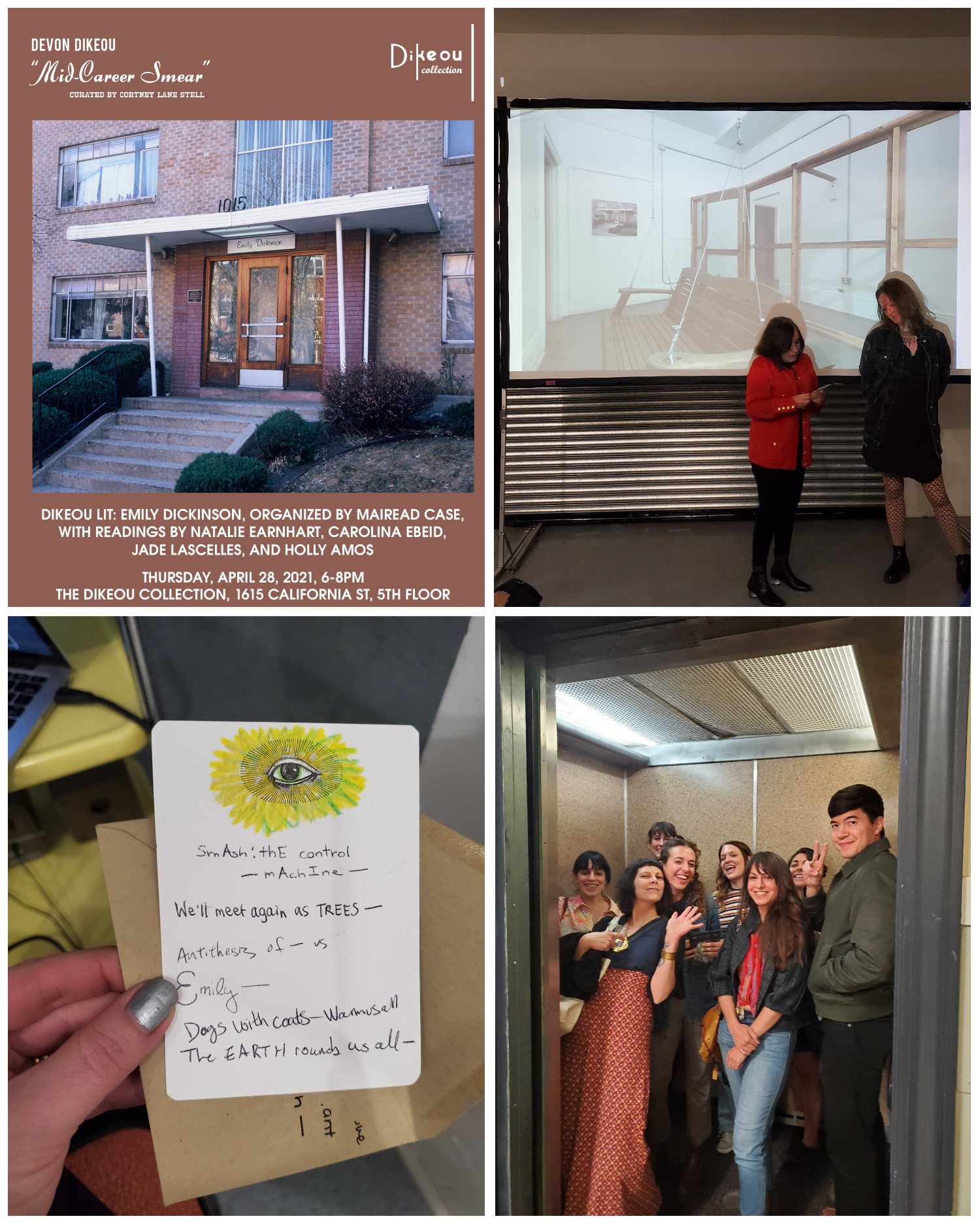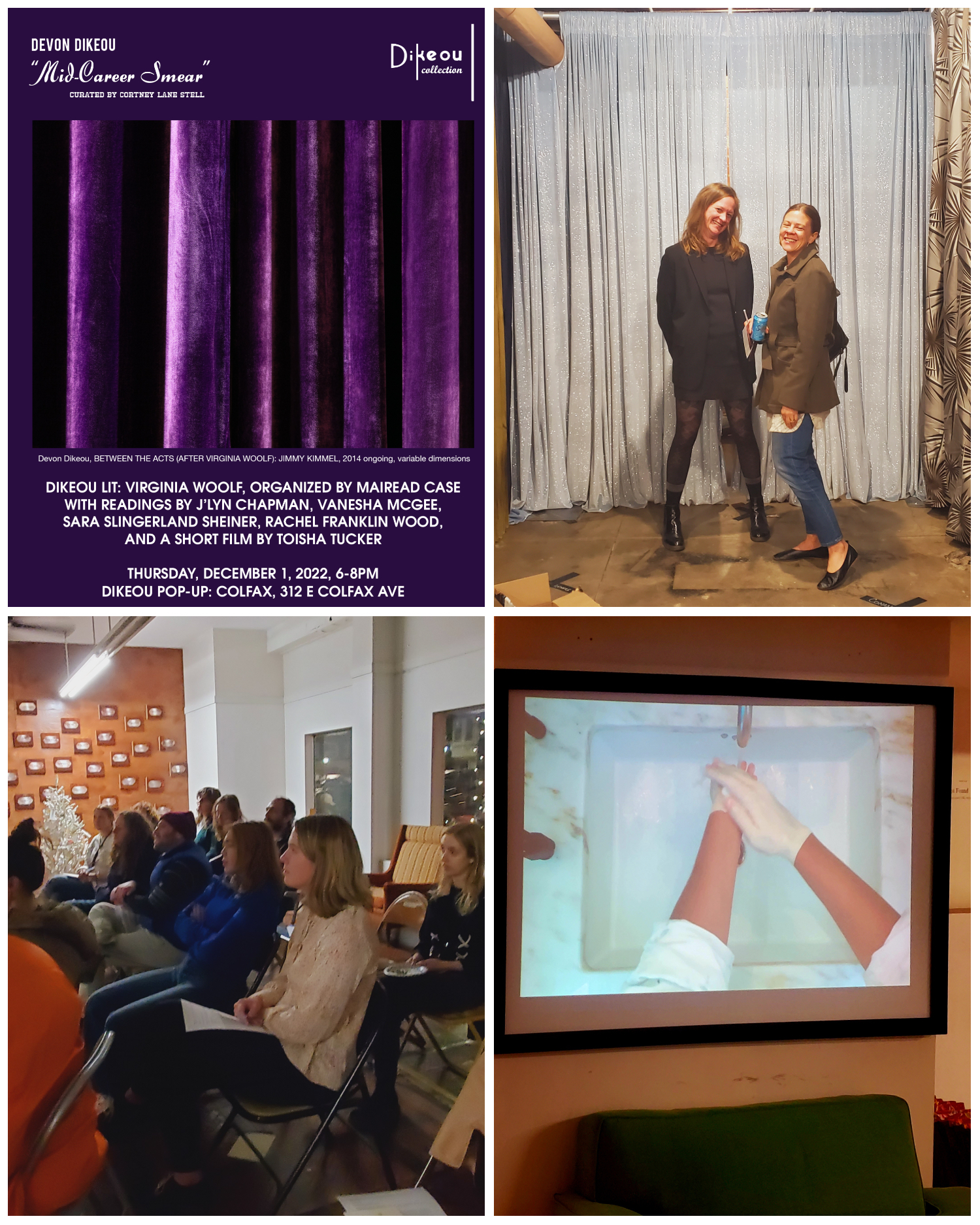 The Dikeou Literary Series is still going strong after 13 years! Emily Dickinson and Virginia Woolf served as the themed inspiration for the two readings hosted by the collection this year, as they are both referenced in artworks on view in "Mid-Career Smear." Series organizer Mairead Case's deep knowledge and connections within the Denver literary community brought forth writers whose work flowed effortlessly with that of Dickinson and Woolf, and brought meaningful attention to the audience as well.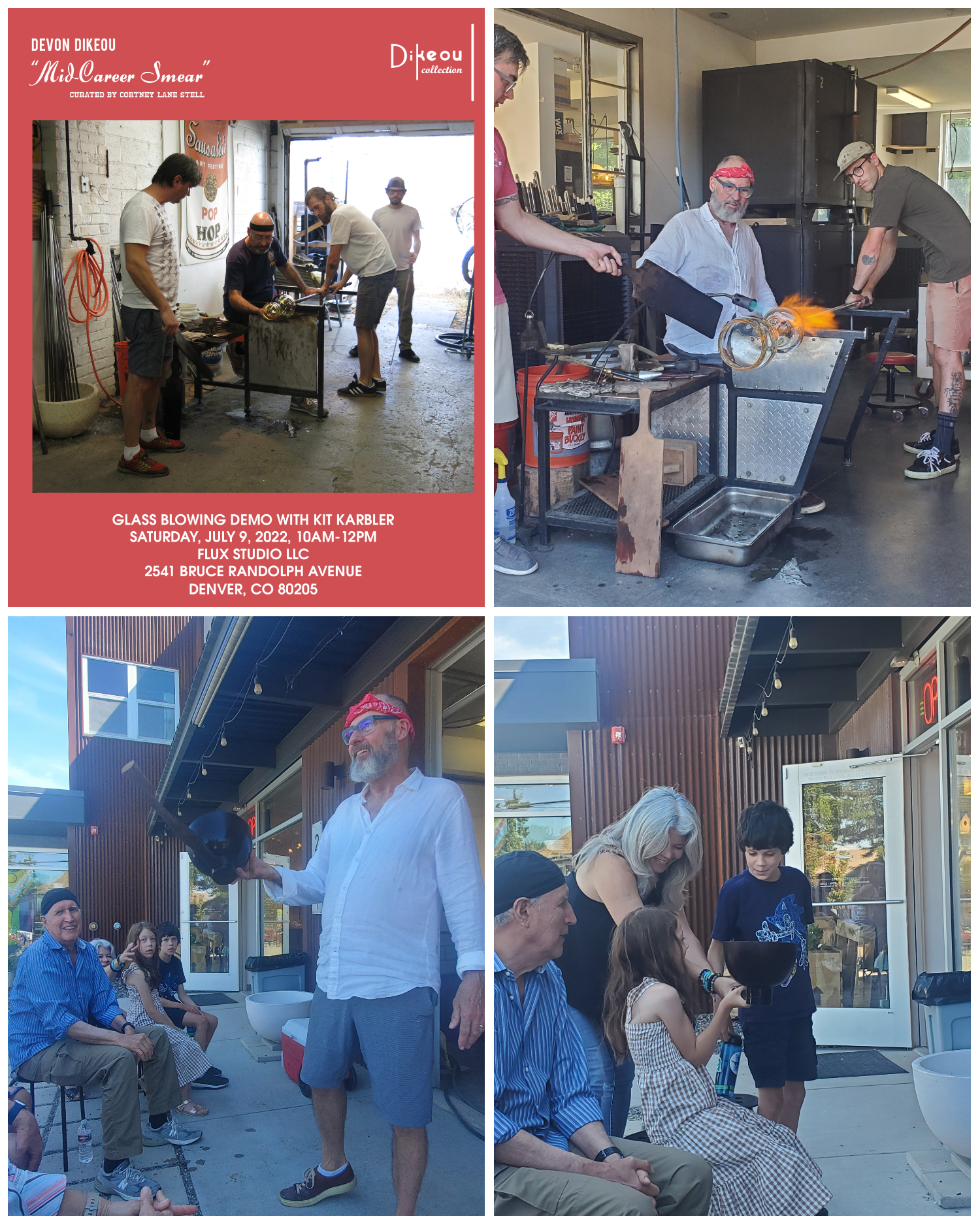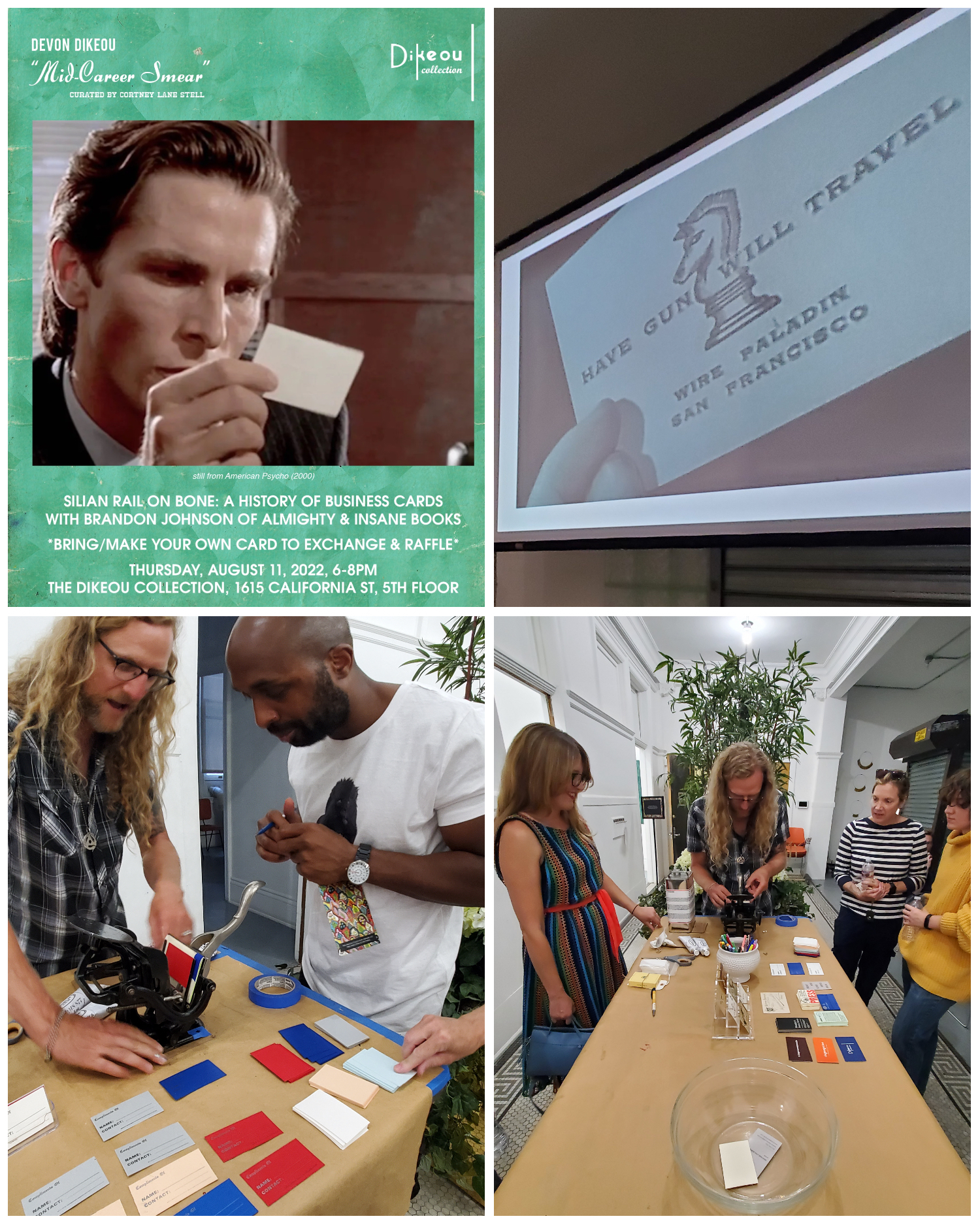 This summer saw two unique events that invited creative experts to share their skills and knowledge with the Dikeou audience. The first was a glass blowing demo with veteran glass artist Kit Karbler. The fine folks at Flux Studio LLC shared their incredible space with us as we watched Kit and his two partners Dmitri and Evan hand-blow a second edition of the vases that comprise Devon Dikeou's piece "We'd Like to Get to Know You." It was a scorching summer day, but that didn't stop us from reveling in the 1800-degree flames. The following month Brandon Johnson of Almighty & Insane Books traveled to Denver for Silian Rail on Bone: A History of Business Cards where he shared his knowledge of the origins and uses of business cards, the art of their design, and their importance as primary sources to reflect historical structures of power, economics, and culture. Peter Miles Bergman and Heather Link-Bergman of isPress followed the talk with an interactive letterpress demo, where attendees could press their own personal business cards with a vintage Sigwalt #11 letterpress, just like the one used in Rockford Files.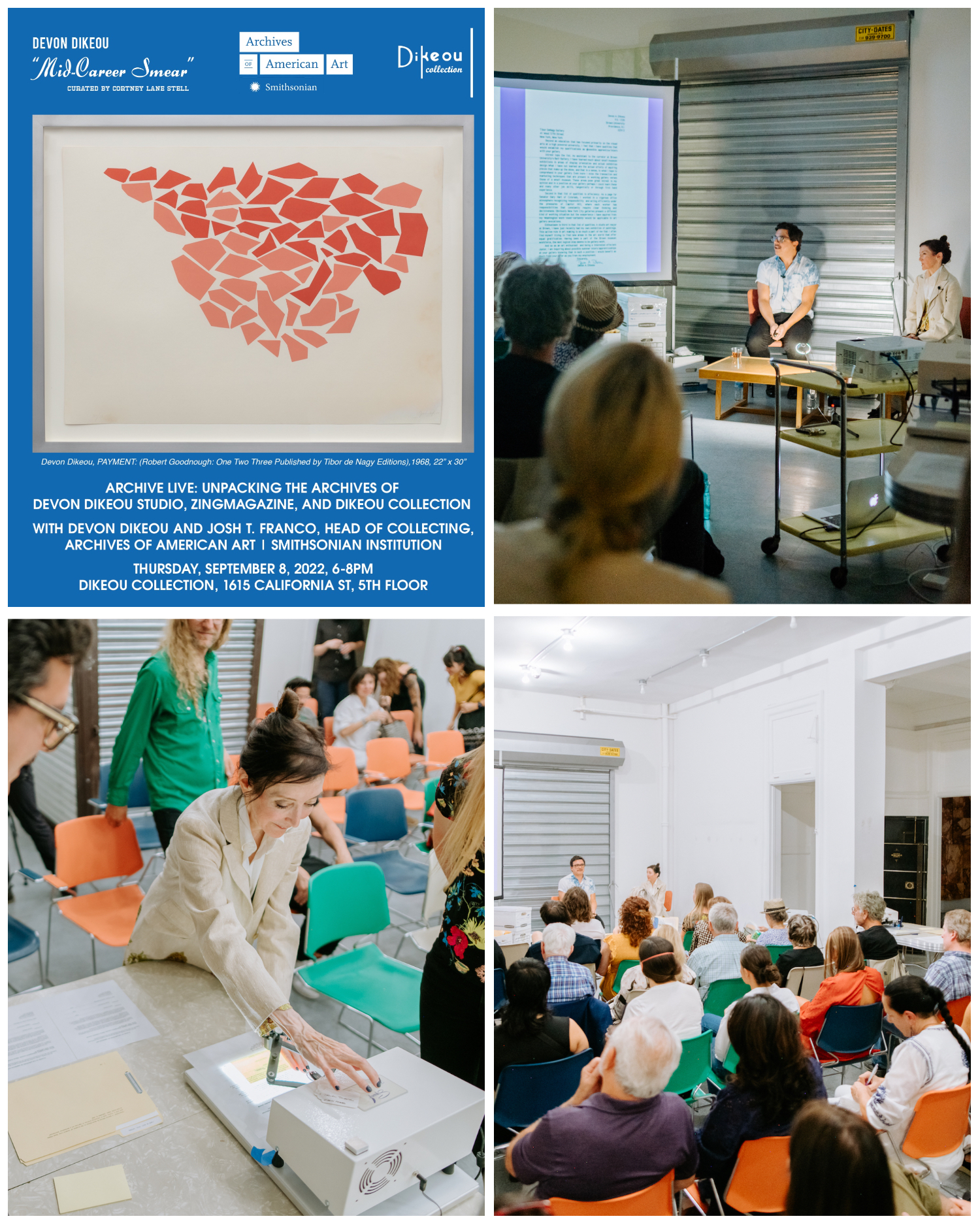 Undoubtedly the most significant event that transpired not only this year but likely in the collection's history was Archive Live: Unpacking the Archived of Devon Dikeou with Josh T. Franco, Head of Collecting at the Archives of American Art. With initial planning starting in 2018 and the event originally slated for 2020, it goes without saying that we had been anticipating this occasion for a long, long time. On September 8, 2022, after sifting through Devon's personal stash of letters, photos, sketches, notes, and more, she signed a pledge (via Autopen) to have the papers pertaining to her studio practice, zingmagazine, and Dikeou Collection donated to the Smithsonian Institution's Archives of American Art where they will be preserved for posterity and made available for public access and research. Of all the happenings, parties, and gatherings of 2022 and all the years leading up to it, this is the one the solidified our place in the history books.
Mega huge thank you to everyone who visited the collection, attended an event, shared their time and expertise, and sent love from near and far this year - Happy New Year to all!
-Hayley Richardson
Director