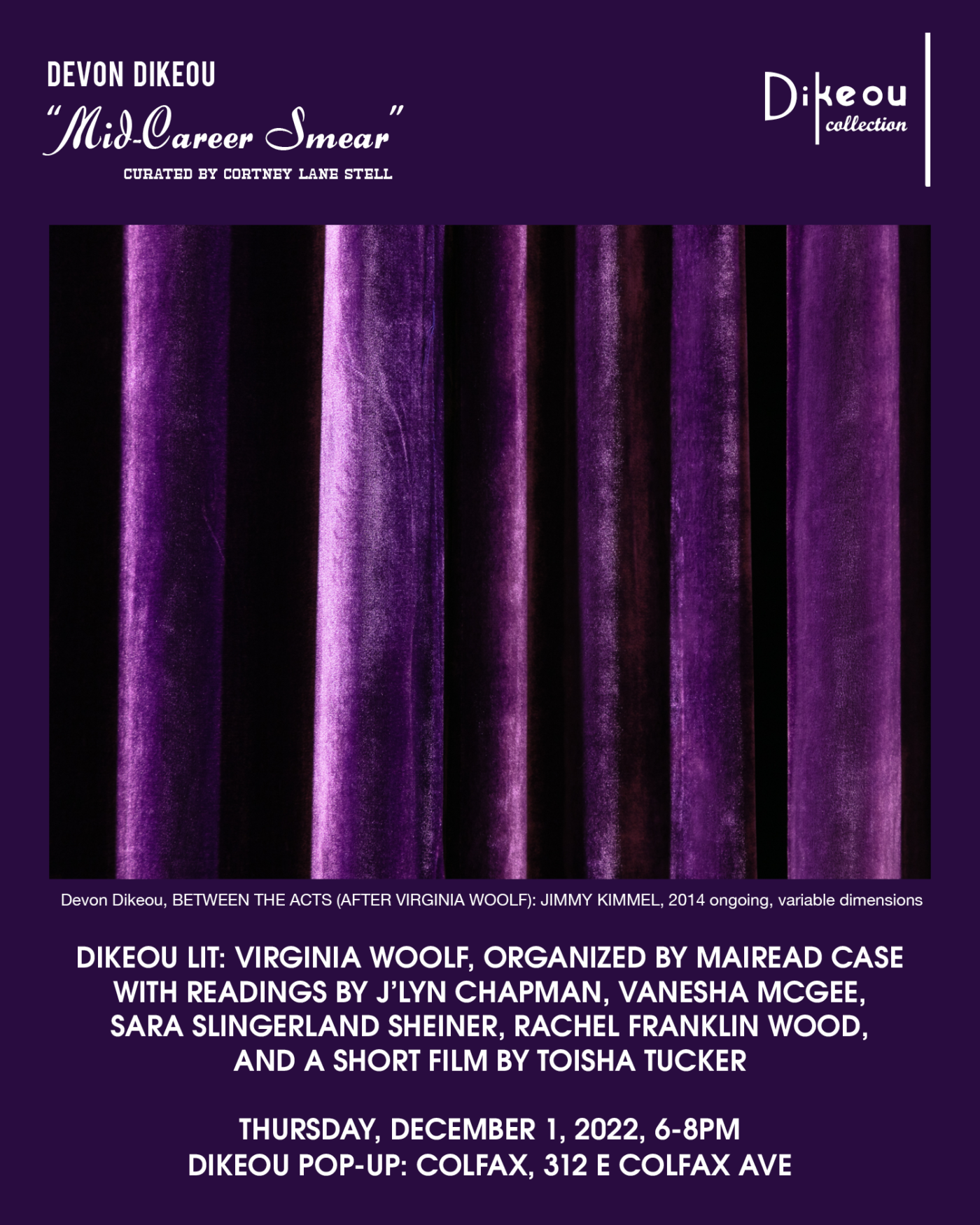 DIKEOU LIT: VIRGINIA WOOLF
=The Dikeou Collection presents the thirty-fourth edition of the Dikeou Literary Series on Thursday, December 1 at Dikeou Pop-Up: Colfax from 6-8pm. 20th-century writer Virginia Woolf serves as the themed inspiration for readers J'Lyn Chapman, Vanesha McGee, Sara Slingerland Sheiner, and Rachel Franklin Wood, as well as a short film by Toisha Tucker. The Dikeou Literary Series is organized by Mairead Case and is free and open to the public. 
As part of "Mid-Career Smear" programming, Dikeou Lit: Virginia Woolf takes cues from Devon Dikeou's installation, BETWEEN THE ACTS (VIRGINIA WOOLF), which comprises replicas of stage curtains seen on popular late-night talk shows hosted by the likes of Johnny Carson, Ed Sullivan, and Jimmy Kimmel. This work speaks to the concept of "in-betweeness" that permeates Dikeou's art practice, and that of Woolf's novel, "Between the Acts." 
Reader & Organizer Bios
J'Lyn Chapman is a writer, teacher, artist, and the author of To Limn / Lying In, winner of the PANK Nonfiction Book Contest (2020), Beastlife (Calamari Archive, 2016), and the chapbooks A Thing of Shreds and Patches (Essay Press, 2016) and Bear Stories (Calamari Press 2008). She also curated the interview chapbook The Form Our Curiosity Takes (Essay Press 2015). J'Lyn currently coordinates the MA in Creative Writing, Literature, and Pedagogy Specializations at Regis University in Denver, Colorado.
Vanesha McGee is an emerging spiritual being with an obsessive tilt towards self discovery. On most days, she can be found reading someone's thoughtfully composed memoir or building a crafty yet potentially unstable structure in her backyard garden. She is a devout follower of the moon's cycles—mostly by force—and finds great joy in the beauty of artistic creation. Vanesha gets paid to write DEI content for higher education websites, but is secretly in search of her dream job as an international traveling book editor.
Sara Slingerland Sheiner's first manuscript, titled Of Lack, was a runner-up for the 2021 Berkshire Prize, judged by Victoria Chang, a finalist in the 2020 Essay Press Book Contest, judged by Renee Gladman, and a semi-finalist in the 2020 Wisconsin Poetry Series' prizes. She is currently working on a "contraepic" titled The Field and a scholarly project that investigates the mysticism of Virginia Woolf's work through an astrological lens. Samples of her work can be found on her website: www.sarasheiner.com.
Toisha Tucker is an interdisciplinary conceptual artist and writer. Their work explores three often-overlapping veins of critique. They use art as a mode of cultural organizing illuminating social constructions of gender, race, and identity. They posit incisive critiques of contemporary and historical events of Western society. They delve into the anthropomorphic relationship between technology and humans, contemporary dystopia, and human empathy. Their practice is process and research based and manifests through text-based prints, photographs, video, participatory works, sculptural installations, analog and virtual physical labor, crafting, repetition, and other media that aim to directly engage with the body. Tucker's work reflects their deep desire for precision in material, firsthand experiential evidence, and fabrication that conveys these elements. Many of their pieces are ongoing and mutable. Tucker received their BA in Philosophy and History with a concentration in English Literature from Cornell University, a Post Baccalaureate in Visual Arts with distinction from UC Berkeley Extension, completed additional coursework at SAIC and received their MFA from the University of Pennsylvania's Graduate School of Design. They have exhibited in Rosendale, Omaha, Catskill, San Francisco, Philadelphia, Boston, Los Angeles, Chicago, New York, and Verona. Tucker is an AIR at Andrew Freedman Home in the Bronx. In 2022, they will be in residence at Marble House Project in Vermont and they curated the exhibition Diasporic Dysplasia which will open at BRAC in March. Tucker was a 2021 NYC Artist Corps Grantee, 2020 Bronx Council on the Arts BRIO awardee, and the 2018-2019 Alice C. Cole Fellow at Wellesley College. They  participated in METRO's Privacy in Public exhibit on data privacy hosted across three boroughs in nine branches of the New York Public Library system. They are an Affiliated Fellow of the American Academy in Rome, AIR Alumni of the Bemis Center for Contemporary Arts, ACRE, Ellis-Beauregard Foundation and CUAC Feminist Artist Residency. Their short fiction After Jacob's Room was published in the Vassar Review in 2016. They collaborated with eight wonderful artists in nonsensical's first guest-edited issue Words on Paper. They co-curated the exhibition #PERSIST in 2017. They were a Field Organizer for Hillary for America in 2016 in South Philly. Tucker resides in the Bronx with their partner, their thriving aloe plant named Wednesday and a fiddle leaf fig named Newton.
Rachel Franklin Wood is a trans poet from Laramie, Wyoming, but she hasn't lived there for a while. She has a chapbook, Every Spring Underneath (dancing girl press) and edits pulpmouth. 
Dikeou Literary Series organizer Mairead Case (rhymes with parade) is a writer, teacher, and editor. She is the author of the novels TINY and SEE YOU IN THE MORNING (featherproof) and the poetry chapbook TENDERNESS (Meekling Press), and publishes widely. Mairead is an editor at Public Media Institute and MAGGOT BRAIN, and currently teaches reading and writing at the University of Colorado-Boulder, Naropa, University of Denver, the Colorado School of Mines, and Cañon City Correctional Facility.