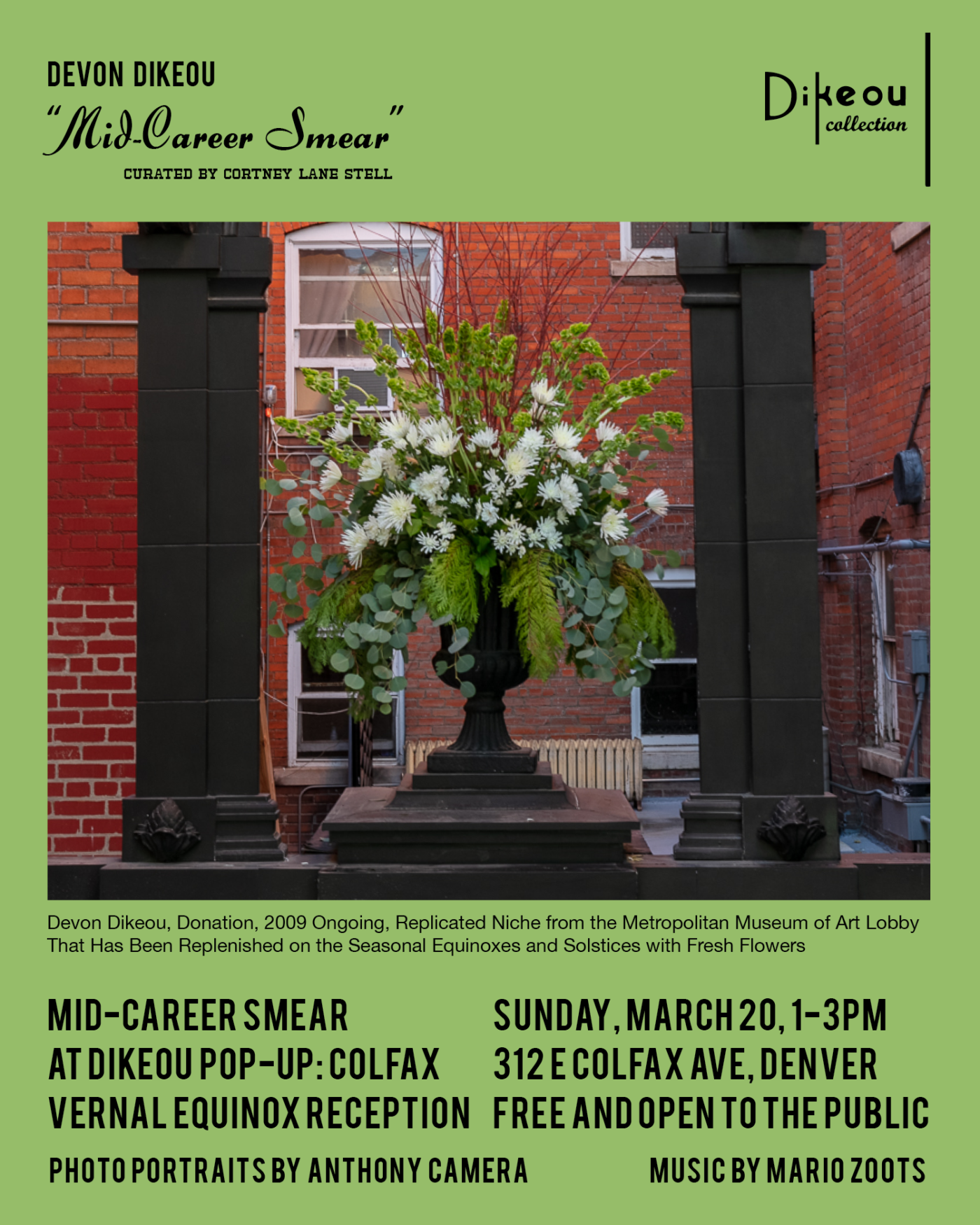 SPRING EQUINOX RECEPTION
Located in the former Jerry's Record Exchange storefront, Dikeou Pop-Up: Colfax is an extension of The Dikeou Collection and offers an expanded look at Devon Dikeou "Mid-Career Smear" curated by Cortney Lane Stell. A reception will be held at this location to commemorate the Spring Equinox and will feature guest portrait photography courtesy of Anthony Camera, and music selections by artist Mario Zoots from our vintage vinyl archive. Food, mimosas, and more surprises in store . .we're doing it up for spring! This event is free and open to the public.
Occupying the main-level of the storefront, as well as the basement and outdoor courtyard, the artworks on view at Dikeou Pop-Up: Colfax broadens the scope of "Mid-Career Smear" by presenting some of the earliest works of Dikeou's career alongside brand-new projects fresh from the studio. From mixed-media sculpture to time-based media, this continuation of the "Mid-Career Smear" exhibition underscores the "in-betweeness" as the core of Dikeou's practice, her love of popular culture, and dedication in honoring the people and institutions that constitute the art world.
Mario Zoots (b.1981) is one of the leading artists in modern photographic collage and appropriation. Employing vintage photographs and old Hollywood film stills with a mixture of his own photography, Zoots creates seductive and fascinating collages that bear qualities of Surrealism and Dada. Zoots received his Masters of Art from the University of Denver, and currently teaches New Media art at Metropolitan State University. His work work has been exhibited internationally since 2010 when he created an installation at the Museum of Image + Sound in Sao Paulo, Brazil. Mario Zoots has also had his work published in two hardcover books on the topic of collage, The Age of Collage: Contemporary Collage in Modern Art. Published by Gestalten in Berlin, Germany. ISBN: 978-3-89955-483-0, and Cutting Edges: Contemporary Collage. Published by Gestalten, Berlin, Germany. ISBN: 978-3-89955-338-3. https://mariozoots.com
Anthony Camera is an award winning Denver based commercial photographer specializing in corporate communications, environmental portraiture and editorial photography. Anthony has been working professionally in Denver for about 25 years. Check out his eclectic photography work at www.denver-photo.com