Mid-Career Smear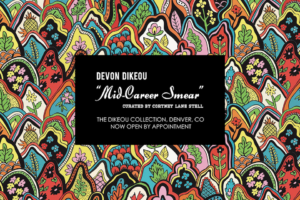 Devon Dikeou "Mid-Career Smear" curated by Cortney Lane Stell at The Dikeou Collection is open Wed-Fri, 11am-5pm, by appointment.

If you have any further questions about your visit, please call us at 303-623-3001 or email info@dikeoucollection.org















"Over the course of a nearly three-decade career, Devon Dikeou has produced a body of work revealing a narrative, and often poetic, approach that blurs the frontiers between the intimate and the public, the past and present, art and life. This exhibition, which spans three sites in Denver, delves into the immense breadth of artworks that Dikeou has continued to develop from the 1990s through today."
—Cortney Lane Stell, curator
Using "the world as her studio," the over 60 works in the exhibition often smear the boundaries between art and life. Through this expansive studio practice and use of familiar physical and conceptual materials, her work focuses on the space of 'in-betweenness,' often drawing relational interconnection and revealing the space of human interaction. Organized stylistically and thematically, rather than chronologically, the exhibition highlights the range of Dikeou's artistic expression. Also highlighted is Dikeou's role as a collector of contemporary art, and editor/publisher of zingmagazine. By crossing traditional boundaries—using other's artworks in her own installations, producing a magazine that gives a platform for experimental artistic projects, and collecting artworks from artists with zingmagazine projects—Dikeou is no stranger to finding connections. Mid-Career Smear is an exhibition that forgoes conventional dividing lines and displays a fascination for the human-made world, calling to attention its inter-relatedness while softening the lines of the artist's role—with a dose of humor and absurdity on top.
Monthly programming, consisting of artist talks and curator conversations, workshops, readings, and musical events will take place at both at The Dikeou Collection and Dikeou Pop-Up: Colfax, as well as a public unveiling of the Tiny Town project in Morrison, Colorado. A release party for the forthcoming Mid-Career Smear catalog will occur near the close of the exhibition. Announcements will be made for all programs through our mailing list, zingrecsDENVER, www.dikeoucollection.org, www.devondikeou.com, and on the social media accounts listed below. For press inquiries and image requests, please email info@dikeoucollection.org
About Devon Dikeou
School of Visual Art, MFA, 1988
Brown University, BA with Honors 1986
Devon Dikeou lives and works in NYC, Austin, and Denver. Recent solo exhibitions include "Here is New York (E.B. White)," James Fuentes Gallery, NYC (2018); "Tricia Nixon: Summer of 1973," Futura, Prague (2018); "Pray for Me"—Pope Francis I, James Fuentes Gallery, NYC (2017) and NADA NYC (2014); "Please," The Contemporary Austin (2013) and Outcasts Incorporated, Paris (2015); "Not Quite Mrs De Menil's Liquor Closet," NADA Miami Beach (2012);  "Pay What You Wish, But You Must Pay Something," NADA Miami Beach (2013); "Between The Acts," NADA Miami Beach (2014); "Mamas Don't Let Your Babies Grow Up To Be Cowboys," Artpace San Antonio (2011); "Reserved for Ileana Sonnabend," NADA Miami Beach (2010); "Reserved for Leo Castelli," The Independent NYC (2010); "From the Mixed-Up Files . . ." Art Basel Statements (1998). Notable group shows include "NYC 1993: Experimental Jet Set, Trash and No Star" (2013), "Temporarily Possessed" (2005), "The Art Mall" (1992), and "The Big Nothing" (1992) at New Museum; "Game Changer," (2014) at Boulder Museum of Contemporary Art; "Colorado 1990," Denver Art Museum (1990). Residencies include Futura, Prague (2018); Artpace, San Antonio (2011); Ssamzie Space, Soeul (2002). Collections include Kenny Schachter, The West Collection, New Museum, and Outcasts Incorporated.
About Cortney Lane Stell
Cortney Lane Stell is the Executive Director and Chief Curator of Black Cube, a nomadic contemporary art museum based in Denver, Colorado. She has held independent curatorial practice since 2006, which has included curating numerous exhibitions nationally and internationally for museums, university galleries, biennials and art events. Stemming from a philosophical interest in art as communication, Stell has organized exhibitions that focus on artworks experimental in both conceptual and material nature. Stell holds a MA from the European Graduate School in Switzerland where she is also a PhD candidate in Media Communications.
About The Dikeou Collection
The Dikeou Collection is a contemporary art collection in downtown Denver founded in 1998 by siblings, Devon and Pany Dikeou. Free and open to the public, the collection occupies two spaces in the Denver Metro area.