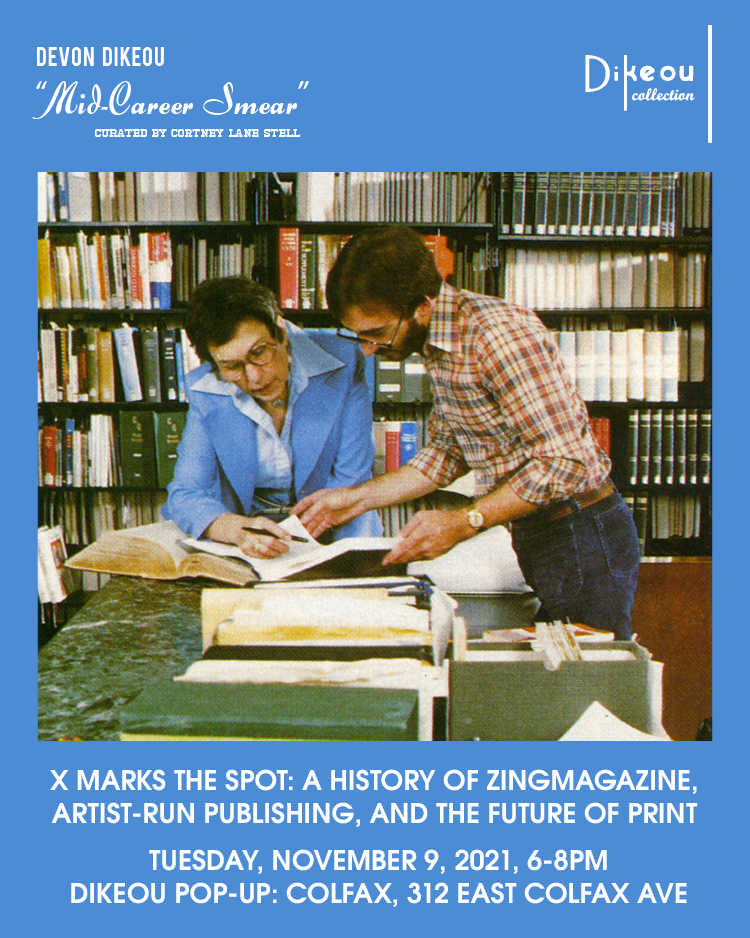 X MARKS THE SPOT: A HISTORY OF ZINGMAGAZINE, ARTIST-RUN PUBLISHING, AND THE FUTURE OF PRINT
zingmagazine was founded in 1995 by Devon Dikeou, whose role as editor and publisher continues to this day. zingmagazine "came out of the idea that within certain disciplines, artistic and otherwise, various cross-references occur. Rather than remaining isolated and apart, either through an unaware and uninformed (or aware and informed) malaise, there is a need to commingle arenas. Each issue's curators are invited to create a context of their choosing. A myriad of different disciplines are explored in each issue from architecture, design, fiction, poetry, drawing, photography, video, music, fashion, as well as a special projects including books, posters, and CDs." To date there have been twenty-five print issues published.
For this event, Devon Dikeou and zingmagazine's managing editor Brandon Johnson will take a look back at the wild and wonderful world of zingmagazine—its history, contents, and people, how zingmagazine relates to a lineage of artist-run publications, and how it relates to Dikeou's practice as a whole in the context of her retrospective. In addition, the role of publishing in the world of art, its current status, and future, will be explored. The event will conclude with a Q&A open to the audience.