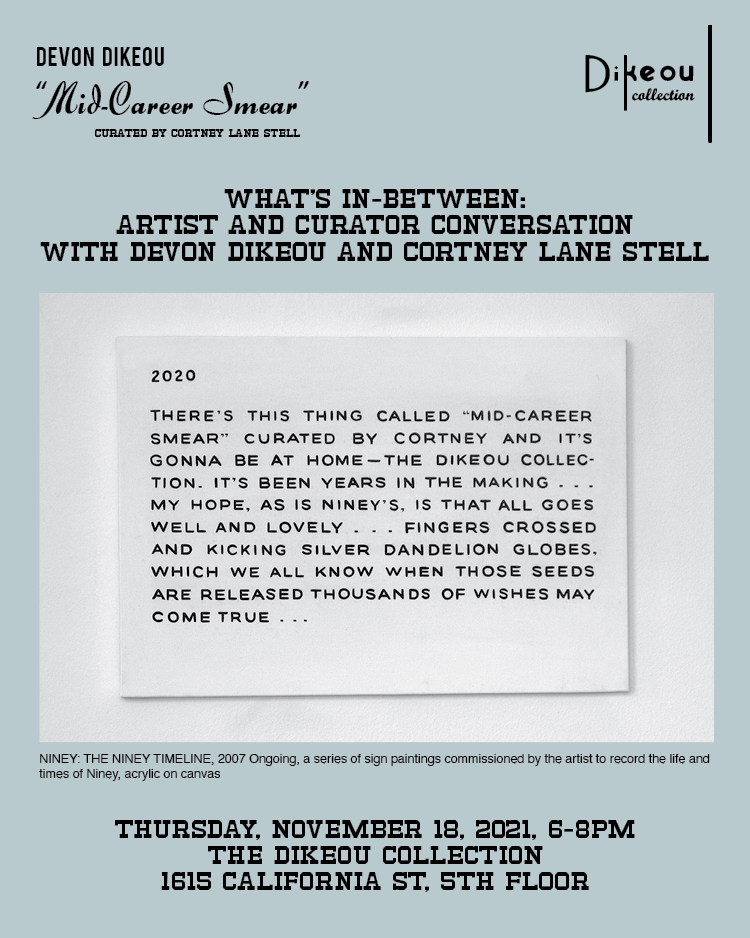 WHAT'S IN-BETWEEN: ARTIST AND CURATOR CONVERSATION WITH DEVON DIKEOU AND CORTNEY LANE STELL
The Dikeou Collection presents What's In-Between: Artist and Curator Conversation with Devon Dikeou and Cortney Lane Stell, where they will discuss Dikeou's extensive art practice through the lens of her mid-career retrospective, which is currently on view. The Conversation will take place at The Dikeou Collection (1615 California St, 5th floor) on Thursday, November 18 from 6-8pm and is free and open to the public.
While "Mid-Career Smear" opened in February 2020, and reopened in March 2021 after a Covid-hiatus, Stell began to curate the exhibition in 2014, and built a history not only for the exhibition but within Dikeou's art practice at large. Exhibited at The Dikeou Collection and Dikeou Pop-Up: Colfax (312 E Colfax Ave), "Mid-Career Smear" encompasses Dikeou's work as an artist for the last 30 years in New York City, Denver, and Austin. Her work has centered on the relationship of the "in-betweenness" of the various points of the artistic process – from the making and viewing of art, to the realms of collecting, dealing, and critiquing – and the varied contexts where these activities take place be it on the street, gallery, museum, or in the pages of magazine.
Devon Dikeou lives and works in NYC, Austin, and Denver. Recent solo exhibitions include "MTV Altarpiece," Foyer-LA, Los Angeles (2021); "Here is New York (E.B. White)," James Fuentes Gallery, NYC (2018); "Tricia Nixon: Summer of 1973," Futura, Prague (2018); "Pray for Me"—Pope Francis I, James Fuentes Gallery, NYC (2017) and NADA NYC (2014); "Please," The Contemporary Austin (2013) and Outcasts Incorporated, Paris (2015); "Not Quite Mrs De Menil's Liquor Closet," NADA Miami Beach (2012); "Pay What You Wish, But You Must Pay Something," NADA Miami Beach (2013); "Between The Acts," NADA Miami Beach (2014); "Mamas Don't Let Your Babies Grow Up To Be Cowboys," Artpace San Antonio (2011); "Reserved for Ileana Sonnabend," NADA Miami Beach (2010); "Reserved for Leo Castelli," The Independent NYC (2010); "From the Mixed-Up Files . . ." Art Basel Statements (1998). Notable group shows include "NYC 1993: Experimental Jet Set, Trash and No Star" (2013), "Temporarily Possessed" (2005), "The Art Mall" (1992), and "The Big Nothing" (1992) at New Museum; "Game Changer," (2014) at Boulder Museum of Contemporary Art; "Colorado 1990," Denver Art Museum (1990). Residencies include Futura, Prague (2018); Artpace, San Antonio (2011); Ssamzie Space, Soeul (2002). Collections include Kenny Schachter, The West Collection, New Museum, and Outcasts Incorporated.
Cortney Lane Stell is the Executive Director + Chief Curator of Black Cube, a nomadic art museum based in Denver, Colorado. She has held independent curatorial practice since 2006, which has included curating numerous exhibitions nationally and internationally for museums, university galleries, biennials, and art events.