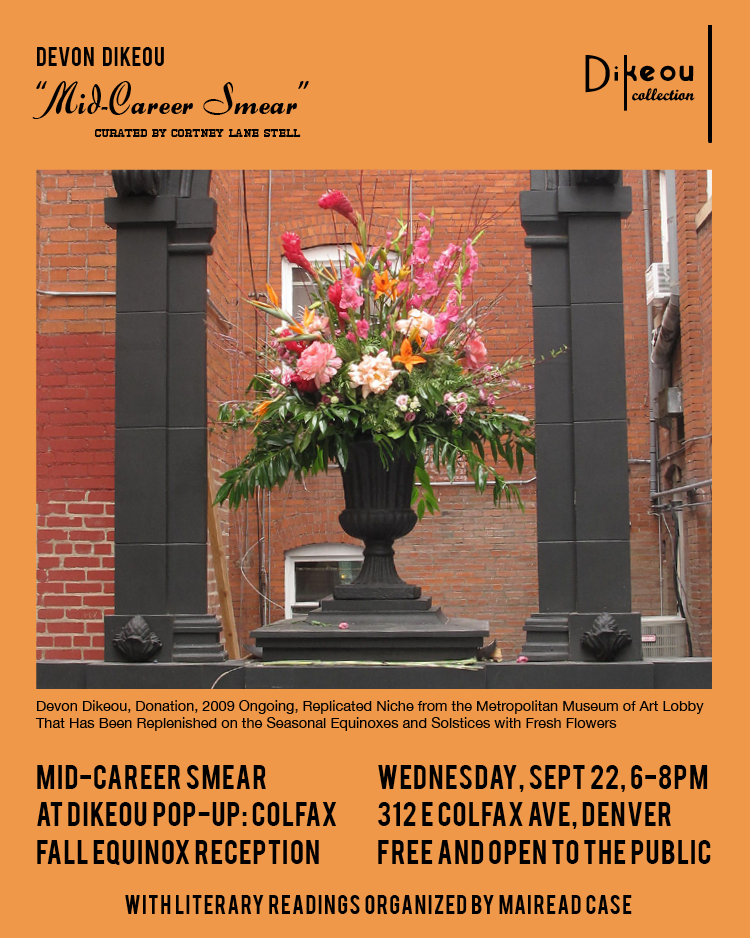 FALL EQUINOX RECEPTION & DIKEOU LITERARY SERIES
Located in the former Jerry's Record Exchange storefront, Dikeou Pop-Up: Colfax, 312 E Colfax Ave, is an extension of The Dikeou Collection and offers an expanded look at Devon Dikeou "Mid-Career Smear" curated by Cortney Lane Stell. A reception will be held at this location on Wednesday, September 22 from 6-8pm to commemorate the fall equinox and welcome back our beloved Dikeou Literary Series. 
Occupying the main-level of the storefront, as well as the basement and outdoor courtyard, the artworks on view at Dikeou Pop-Up: Colfax broadens the scope of "Mid-Career Smear" by presenting some of the earliest works of Dikeou's career alongside brand-new projects fresh from the studio. Dikeou's ongoing "Donation" installation will be replenished with a fall floral arrangement in the courtyard, and a special edition of Dikeou Collection artist Lizzi Bougatsos' "Self-Portrait" ice sculpture will also be on view. This event will feature literary readings from Tess Brown-Lavoie, Phil Cordelli, André O. Hoilette, and Ivan Levitt. Readings are organized by writer, editor, and teacher Mairead Case. Denver-based DJ Gumshoe will spin tracks from the collection's broad vinyl archive.
Reader Bios –
Tess Brown-Lavoie is author of Lite Year, 2019 winner of the Fence Modern Poets Series. Other writing has been published or performed in the Berkeley Poetry Review, Fence Magazine, MIDTERM, the Poetry Project's New Year's Marathon, and various punk publications that resist enumeration in bio format. Tess cofounded Sidewalk Ends Farm in 2011 in Providence, Rhode Island, and is currently the Anne Waldman Fellow at Naropa University's Jack Kerouac School.
Phil Cordelli has been farming for about a dozen years. He's been many other things, professionally, none for very long. Noelle Trueheart is a forager, farmer, activist, artist, model, and mother. Not always in that order. When not playing with plants on the farm, she's usually playing with plants in the mountains. Together with Betzi Jackson, Phil and Noelle founded Common Name Farm, which is on land owned by Miss Betty Opal Mae Shelley. She is 97, and has lived on the property for 80 years. She and her family have cut hay on that ground for over 100 years, but they got tired and heard people were looking for a place to grow vegetables. Common Name Farm began planting on Wednesday, May 19, 2021. | commonnamefarm.org
André O. Hoilette is a Jamaican-born poet living in Denver, Colorado. He is a Cave Canem alumnus and the former editor of ambulant: A Journal of Poetry & Art and former assistant editor of Nexus Magazine. He earned an MFA in Fiction and Poetry from Regis University's Mile-High MFA program. 2020 nomination for Pushcart Prize. Previous publications in Role Call, Stand Our Ground, Bum Rush the Page: A Def Poetry Jam and Cave Canem 10-Year Reader, Inverted Syntax, Cultural Weekly, Rigorous, milk magazine, Nexus magazine, South Broadway Press and Burrow Press.
Originally from New Mexico, Ivan Levitt is now a sophomore at George Washington High School in Denver. When he is not doing U.S. History or calculus homework, you will likely find him reading a book with his best friend (a dog by the name Bear), or rock climbing with his dad. He has participated in several creative writing competitions such as NaNoWriMo, and hopes to have a published novel one day.
Dikeou Literary Series organizer Mairead Case (rhymes with parade) is a writer, teacher, and editor. She is the author of the novels TINY and SEE YOU IN THE MORNING (featherproof), the poetry chapbook TENDERNESS (Meekling Press), and the TO THE TEETH column at Entropy. Mairead is an editor at Public Media Institute and MAGGOT BRAIN, holds a PhD from the University of Denver, and currently teaches reading and writing at universities, jails, and middle schools
Lizzi Bougatsos
Born 1974, USA
Self-Portrait
2012
ice

Tess Brown-Lavoie is author of Lite Year, 2019 winner of the Fence Modern Poets Series. Other writing has been published or performed in the Berkeley Poetry Review, Fence Magazine, MIDTERM, the Poetry Project's New Year's Marathon, and various punk publications that resist enumeration in bio format. Tess cofounded Sidewalk Ends Farm in 2011 in Providence, Rhode Island, and is currently the Anne Waldman Fellow at Naropa University's Jack Kerouac School.

Phil Cordelli has been farming for about a dozen years. He's been many other things, professionally, none for very long. Noelle Trueheart is a forager, farmer, activist, artist, model, and mother. Not always in that order. When not playing with plants on the farm, she's usually playing with plants in the mountains. Together with Betzi Jackson, Phil and Noelle founded Common Name Farm, which is on land owned by Miss Betty Opal Mae Shelley. She is 97, and has lived on the property for 80 years. She and her family have cut hay on that ground for over 100 years, but they got tired and heard people were looking for a place to grow vegetables. Common Name Farm began planting on Wednesday, May 19, 2021. | commonnamefarm.org

André O. Hoilette is a Jamaican-born poet living in Denver, Colorado. He is a Cave Canem alumnus and the former editor of ambulant: A Journal of Poetry & Art and former assistant editor of Nexus Magazine. He earned an MFA in Fiction and Poetry from Regis University's Mile-High MFA program. 2020 nomination for Pushcart Prize. Previous publications in Role Call, Stand Our Ground, Bum Rush the Page: A Def Poetry Jam and Cave Canem 10-Year Reader, Inverted Syntax, Cultural Weekly, Rigorous, milk magazine, Nexus magazine, South Broadway Press and Burrow Press.

Originally from New Mexico, Ivan Levitt is now a sophomore at George Washington High School in Denver. When he is not doing U.S. History or calculus homework, you will likely find him reading a book with his best friend (a dog by the name Bear), or rock climbing with his dad. He has participated in several creative writing competitions such as NaNoWriMo, and hopes to have a published novel one day.

Dikeou Literary Series organizer Mairead Case (rhymes with parade; she her) is a writer, teacher, and editor. Mairead learns about and works in radical anti-racist pedagogy, embodied queer theory, narrative, poetry, the US prison industrial complex, and the public. She is the author of the novels Tiny and See You In the Morning (featherproof), the poetry chapbook TENDERNESS (Meekling Press), and the TO THE TEETH column at Entropy.

Audience gathered in the pop-up courtyard

Young Ivan Levitt boldly kicks off the first reading of the literary series relaunch. Right on!

André O. Hoilette, happy to read poems in-person after a year and a half of zoom and doom

Dikeou Literary Series organizer Mairead Case graciously introduces each reader and reminds the audience that we have bathrooms. Yes!

Phil Cordelli brought incredible okra and tomatoes fresh from Common Name Farm and declared, "I don't like to speak, I like to talk."

Tess Brown-Lavoie closed the evening at dark. Fitting.

Lizzi Bougatsos' "Self-Portrait". . . ice cold / red hot

DJ Gumshoe laying down some Three Dog Night, but It Ain't Easy

Artist Jack Chappel and partner Rachel show off their "Between the Acts" goodies xx