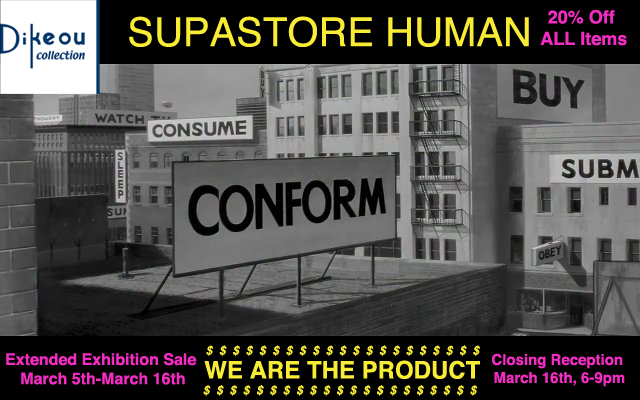 SUPASTORE HUMAN: EXHIBITION EXTENDED + 20% OFF SALE
SupaStore Human – We are the Product at Dikeou Pop-Up: Colfax has been extended by two weeks with a closing reception taking place on Friday, March 16 from 6-9pm. Conceptualized and presented by artist Sarah Staton, SupaStore Human – We are the Product features items for purchase by over 30 international artists. In the final weeks of the exhibition all items will be marked down 20%. Dikeou Pop-Up: Colfax is located at 312 E Colfax Ave in Denver, CO and is open to the public Wednesday through Friday, 11am-5pm as well as by appointment.
Sarah Staton (born 1961) is an artist based in London, England, whose diverse practice melds sculpture, painting, architecture, design, publishing, fashion, and technology to create objects and spaces that are simultaneously aesthetic and utilitarian. Initiated in 1993, Sarah Staton's SupaStore started as a DIY art sale experiment that has transpired at dozens of museums, galleries, and alternative venues over the years, most recently at Midway Contemporary Art in Minneapolis. Over three hundred artists, ranging from up-and-coming contemporaries, unknowns, and established artists have had a piece they created for sale at the SupaStore.
SupaStore Human – We are the Product reflects how technology and automation has impacted social interaction, commerce, and manufacturing. As the goddess of art, trade, handicrafts and wisdom, Minerva (in her many guises) has become the public face of the SupaStore and represents the classical origins of these now mechanized exchanges.
Sarah Staton is Senior Tutor in Sculpture at the Royal College of Art, and has exhibited internationally at museums and galleries like Tate Modern, Victoria and Albert Museum, Mount Stuart, and Osan Museum of Contemporary Art among many others. Her bleach on denim anti-painting, "Endless Column," is exhibited at Dikeou Collection and her "10 SupaStore SupaStars" portfolio comprised of lithographs by past SupaStore artist participants is on view at Dikeou Pop-Up: Colfax. Additionally, Sarah Staton has three artworks represented in Devon Dikeou's ongoing installation "Not Quite Mrs. De Menil's Liquor Closet" at Dikeou Collection. She has also curated projects in zingmagazine issues 4 and 15, as well in forthcoming issue 25.
Artists participating in SupaStore Human – We are the Product include Saelia Aparicio, Fiona Banner, Merlin Carpenter, Ejaz Christiliano Jude Crilly, Dd Davies, Denise De Cordova, Aaron Flint Jamison, Freee, GAS (Kelsey Olson and Katelyn Farstad), Alison Gill, Chiara Giovando, Justin Goldwater, Dominique Gonzalez-Foerster, Natalie Price Hafslund, Anthea Hamilton, Cira Huwald, Steve Kado, Miguel Soto Karelovic, Tobias Kaspar, Lito Kattou, Lisa Kereszi, Adriana Lara, Tanya Ling, Paula Linke, Steph Luyinhuang, Adam McEwen, Sean McNanney Saved NY, Ariane Müller, Tracy Nakayama, Dmitri Obergfell, Joanne Tatham & Tom O'Sullivan, Jaehung Park, Hadrian Pigott, Paloma Proudfoot, Josephine Pryde, Cullinan Richards, Colleen Rogers, Lawrence Seward, Sarah Staton, Milly Thompson, Will Thompson, Nicola Tyson, Demelza Watts, Nicole Wermers, Seyoung Yoon, YES & NO MAGAZINE, and Anand Zenz.