Biology, decay, feminism, narrative, systems, exchange - these are a few of the themes analyzed by Anicka Yi in her art practice. Though these topics are not uncharted territory in artistic exploration, her approach is exceptionally unusual and stimulating. With the art experience so dependent on the visual, Yi carves out a unique space where smell, taste, and touch become the primary vehicles of expression and consumption. Her philosophical interests in space, materiality, time, and relationships manifest as bacterial paintings, ground Teva sandals, and dried shrimp flakes, or some combination thereof, creating an orchestra of the senses. On October 20, Yi was lauded for her innovative work by receiving the Guggenheim's prestigious Hugo Boss Prize. In a statement from the jury, "we wish to highlight the singularity of her vision and the generative new possibilities for artistic production offered by her practice." Yi's installation,
L'Haine
, at Dikeou Pop-Up: Colfax encapsulates the core elements of her work – smell, erosion, femininity – all of which create an ecosystem that calls into question the language and understanding of art.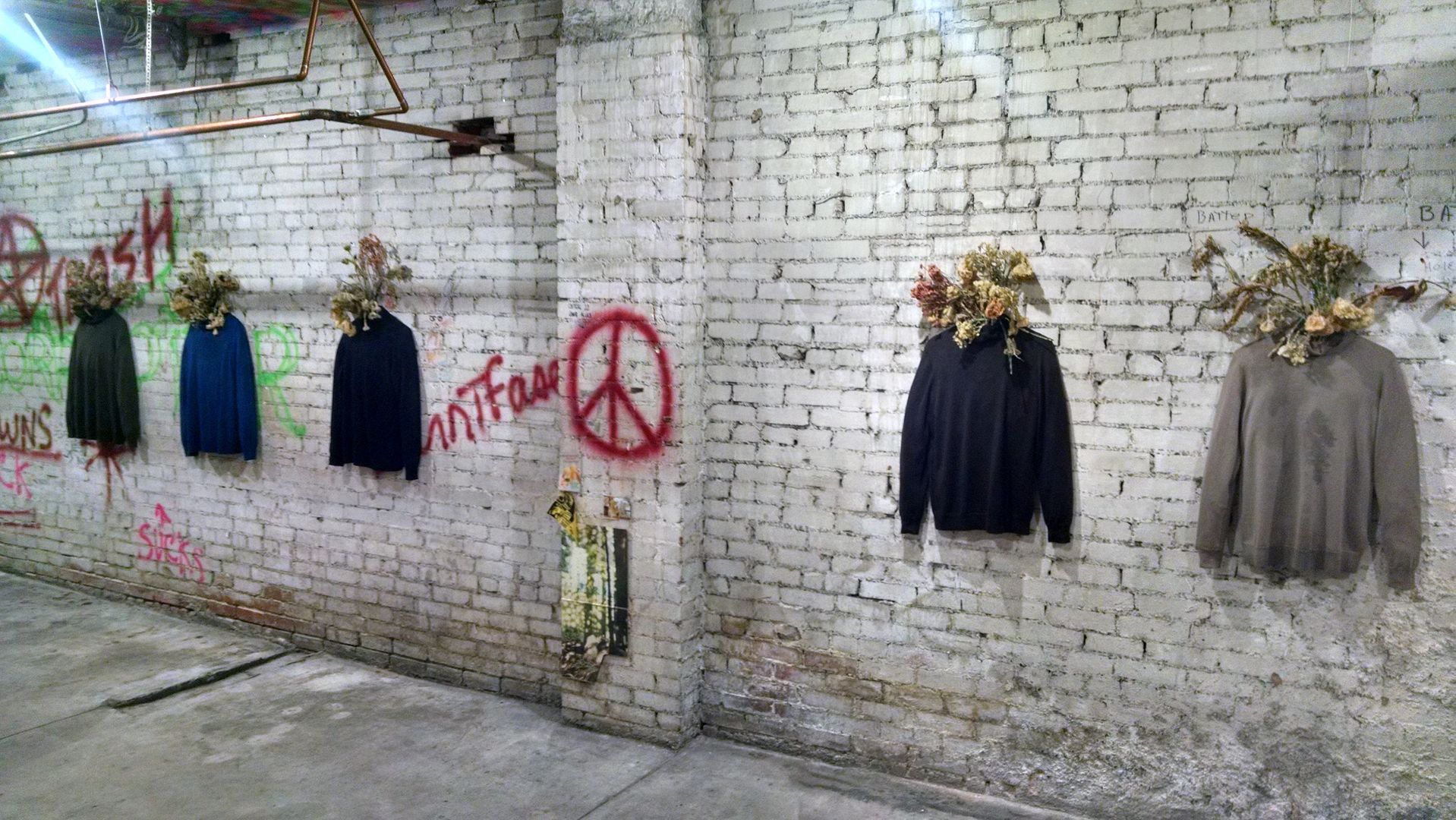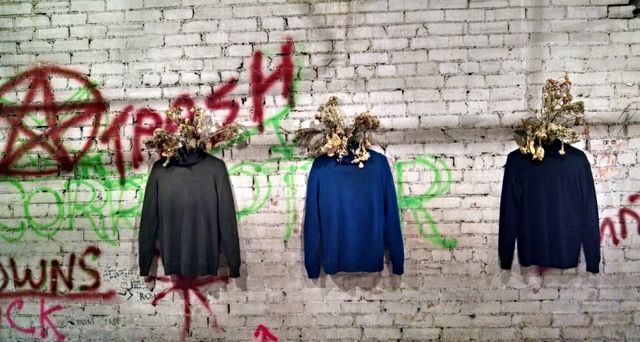 L'Haine
is comprised of five turtleneck sweaters mounted on the wall with bouquets of deep fried tempura battered flowers placed in the neck. The earthy, muted tones of the sweaters and flowers contrast with the neon graffiti covered walls of the pop-up basement, but the deteriorated brick serves as a nice backdrop for the dredged and droopy blossoms. Ask any art preparator in a museum or gallery if they have ever had to fry flowers for an artwork, and you can be guaranteed that they would say no, unless, of course, they have engaged with Yi's work. Frying the flowers in the parking lot of the Dikeou pop-up was surreal, exciting, and memorable. The activity attracted much attention and questions from those witnessing the act, creating a unique opportunity to engage with the public and discuss the work. Her installation instructions are meticulous and urgent. She writes, "Please be aware that the entire process of the installation is not easy. It's actually downright difficult because the process is reliant on skilled instinct and timing all while requiring the right instinct of texture, color composition, and 'cooking' … It's an all encompassing hyper focused process from beginning to end." And indeed it is, and so worth the effort.
To take the tantalizing and uplifting scent of a flower and mask it with the smell of oil, as well as hide its beautiful color and soft petals with the rough texture, heavy weight, and bland color of fried Panko crumbs is to destroy all identifying properties of the flower itself. All that is left a grossly preserved shell of what it once was. There is also a sense of violence associated with the piece, where the delicate, lilting flower is essentially tarred and feathered and then tossed into a boiling vat. The title,
L'Haine
, is French for "the hatred," and in Romanian the word translates to "clothes." The play on words and paradoxical treatment of the materials is indicative of the artist's desires to question and potentially reorder the language of art, as well as develop a new vocabulary.
In a
2014 interview with the Taipei Fine Arts Museum
, Anicka says that the tempura fried flowers are her most deliberate scent works. Her interest in olfaction stems from the fact that so little is known about it and it is a hugely powerful sense that doesn't have any real lexicon to describe it.
In a recent interview with W Magazine
, Yi states, "If there was more information or more objective truths around [smell], I wouldn't have to be so vigilant. Because it's hard to agree, and the language just isn't there. We don't have a way of talking about all things olfactive… It's always analogy based. Like, 'Oh, that smells citrusy.' But if you've never smelled citrus, how would you know what that is?" Scent is also interesting because it is typically something that exists temporarily, yet is the sense most closely ties to memory. While perishability is inherent within Yi's art, it is impossible to forget.
-Hayley Richarson