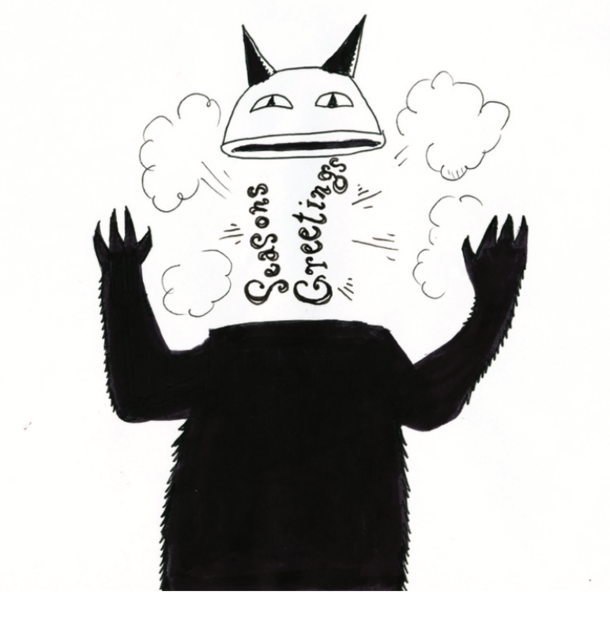 Christmas is a time of year when a sense of childlike wonder and enchantment can brighten even the surliest of souls. It is also a time when the most spirited of folk can descend into nihilism. The members of the Royal Art Lodge – specifically Neil Farber, Michael Dumontier, Drue Langlois, and Hollie and Marcel Dzama – wrote a letter trying to articulate these sentiments that reads, "Dear zingmagazine, we have tried to understand Christmas." And to accompany this letter are the collective's
Christmas Drawings
, which consists of 41 small works on paper that synthesize this magical mixture of mayhem and merriment to poignantly encapsulate the spirit of the season. While they may appear cute and childlike on the surface, the
Christmas Drawings
possess a level of dark humor that only comes with the jadedness of adulthood.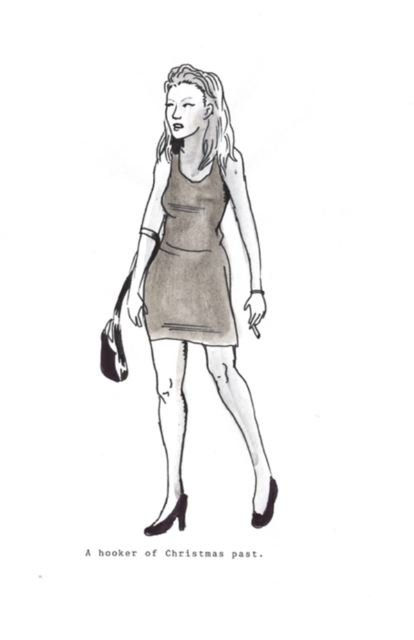 The Royal Art Lodge was an artist collective formed in 1996 that later dissolved in 2008. Its founding members, Michael Dumontier, Marcel Dzama, Neil Farber, Drue Langlois, Jon Pylypchuk, and Adrian Williams, were all students at the University of Manitoba in Winnipeg, Canada who would meet on a weekly basis to create art using the Surrealist methods of collaboration and spontaneous response. A completed work highlights yet blends each artist's distinct style from/with one another. The
Christmas Drawings
, of which there are 41, are chock full of Santas, candy canes, reindeer, and snowmen, but there are also ghosts, monsters, prostitutes, and other dangerous figures who wield guns and other weaponry. For every picture-perfect postcard vision of Christmas, the Royal Art Lodge finds a way to subvert it simply by adding a decapitated elf or termite-infested tree.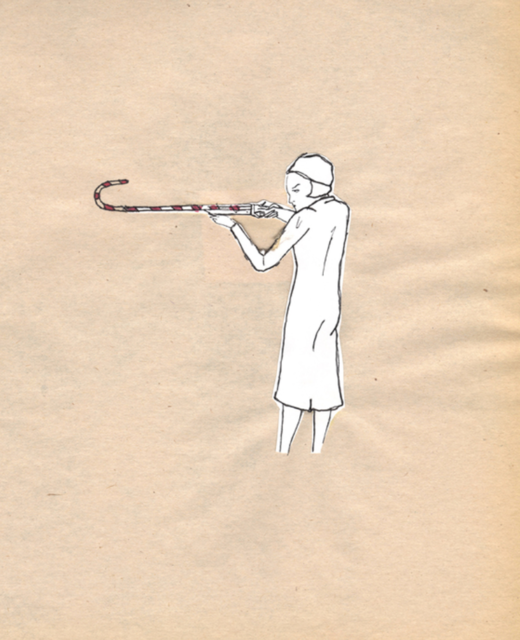 The drawings at Dikeou Collection appear in
issue 18 of zingmagazine
, but it's not the first time the Lodge clan dug their claws into the yule log. They also created
"Christmas Story" for issue 11
. The focus on one specific subject is key to the group's conceptual underpinnings.
Flick Harrison
wrote an in-depth article on the RAL, and in it he states, "The drawings themselves pretend at pointlessness, isolated moments, useless knowledge, but the critical mass of a dozen or so of the images viewed in any sequence begins to create something entirely other, an Eisenstein montage which maps itself onto your subconscious." The amount of jokes, characters, and scenarios presented on the walls of Dikeou Collection and pages of zingmagazine are but a speck in the RAL universe. And, if that weren't enough, each of the artists work independently as well in various media. Marcel Dzama has worked in film, sculpture, design, and theater. Drue Langlois does animation and creates dolls and larger soft sculpture, like his
Polio with Palsy
which is also part of Dikeou Collection. Neil Farber and Michael Dumontier still do weekly art sessions in Winnipeg and create music together as Eyeball Hurt and The Medicine. They even made a tape of Christmas songs, some of which refer specifically to drawings found at Dikeou Collection. So if you get tired of hearing the same old Elvis or Mannheim Steamroller Christmas albums, just
click here
to rock out to some "Christmas Deity" and "Sugarplum Fairy from the Soviet Union."
- Hayley Richardson